Middle Years Programme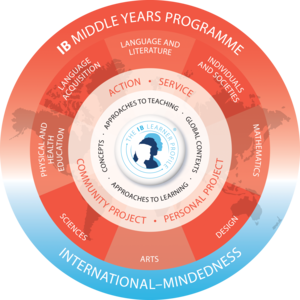 MYP is a programme for students aged 11 to 16. The MYP encourages students to make practical connections between their studies and the real world. At the AICS, all classes in MYP have a maximum of 22 students.
Curriculum
The curriculum framework comprises eight subject groups, providing a broad and balanced education for young adolescents. The programme uses concepts and contexts as starting points for the meaningful integration and communication of knowledge across the eight subject groups.
| | |
| --- | --- |
| 1. Language and Literature | English, Dutch |
| 2. Language Acquisition | Dutch, English, French, German and Spanish |
| 3. Mathematics | Mathematics |
| 4. Arts | Drama, Music and Visual Arts |
| 5. Sciences | Integrated Sciences, Physics, Chemistry and Biology |
| 6. Physical and Health Education | Physical and Health Education |
| 7. Individuals and Societies | Geography, History |
| 8. Design | Product Design, Digital Design |
Our teachers organize the curriculum with appropriate attention to:
Teaching and learning in context. Students learn best when their learning experiences have context and are connected to their lives and the world they have experienced. Using global contexts, MYP students explore human identity, global challenges and what it means to be internationally minded.
Conceptual understanding. Concepts are big ideas that have relevance within specific disciplines and across subject areas. MYP students use concepts as a vehicle to inquire into issues and ideas of personal, local and global significance, and to examine knowledge holistically.
Approaches to learning (ATL). A unifying thread throughout all MYP subject groups, approaches to learning provide the foundation for independent learning and encourage the application of their knowledge and skills in unfamiliar contexts. Developing and applying these skills help students learn how to learn.
Language and identity. MYP students are required to learn at least two languages. Learning to communicate in a variety of ways is fundamental to their development of intercultural understanding and crucial to their identity affirmation.
MYP certificate

After successfully completing the five-year MYP programme students receive a MYP certificate. The MYP certificate is the highest standard of achievement in the MYP and results in official recognition and IB-validated grades. With this MYP certificate, students can enrol in the Diploma Programme (DP).
See our School Guide for a more detailed overview.