IB DP (International Baccalaureate Diploma Programme)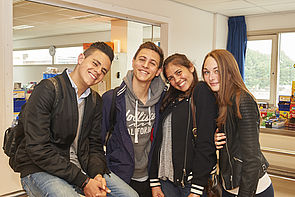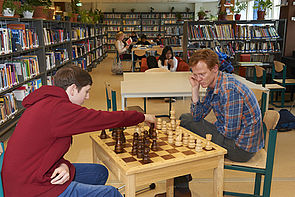 The Diploma Programme runs for the last two years in the Secondary School (for students aged 16 to 19), and is authorised by the IBO (International Baccalaureate Organisation). The aim of this programme is to develop internationally minded people, who, recognising their common humanity and shared guardianship of the planet, help to create a better, more peaceful world
IB learners strive to be inquirers, knowledgeable, thinkers, communicators, principled, open-minded, caring, risk-takers, balanced and reflective.
The DP curriculum is made up of six subject groups and the DP core, comprising theory of knowledge (TOK), creativity, activity, service (CAS) and the extended essay.
Subject Group
Subject
Group 1: Studies in Language and Literature

English Literature HL/SL
English Language Literature HL/SL
Dutch Language Literature HL/SL
*Self-Taught Languages A1 (SL only)

Group 2: Language Acquisition

English B HL/SL
Dutch B HL/SL
French B HL/SL
German Ab Initio (SL only)
Spanish B HL/SL
Spanish Ab Initio (SL only)
OR AN EXTRA GROUP 1 LANGUAGE

Group 3: Individuals and Societies

Geography HL/SL
History HL/SL
Economics HL/SL
Business Management HL/SL

Group 4: Experimental Sciences

Biology HL/SL
Physics HL/SL
Chemistry HL/SL
Environmental Systems & Societies (SL only)

Group 5: Mathematics and Computer Science

Mathematics Higher Level
Mathematics Standard Level
Mathematical Studies SL

Group 6: The Arts

Visual Arts HL/SL
Music HL/SL
OR ANY CHOICE FROM GROUPS 1-4
Official IB Documents (Please Click on Link)
For more information:http://www.ibo.org/programmes/diploma-programme/
IBDP (International Baccalaureate Diploma Programme)
In the final two years students follow the IBDP (International Baccalaureate Diploma Programme) culminating in the official IB Examinations at the end of the two-year course of study. Successful participation in this programme leads to the acquisition of the IB Diploma, offering entrance into universities and institutions of further education worldwide.
The IBDP for Dutch students living permanently in The Netherlands
This programme is open to all Dutch students who have a HAVO diploma or are promoted to VWO5. In addition, all students need to be fluent in spoken and written English.
IB CAS Programme 2018-2019
IB Diploma Programme Subject Choice Overview
Students in the IB Diploma Programme need to choose six subjects: three at Higher Level (HL) and three at Standard Level (SL). HL subjects are chosen based on the student's academic strengths and interest in those subjects, requirements of institutions of tertiary learning and the advice of the Careers Counsellor and subject teachers. SL subjects cover topics in less depth than HL subjects and are intended to give the IBDP student a well-rounded education. HL subjects are usually timetabled for five teaching periods per week. SL subjects are timetabled together with HL subjects, but require a minimum of three teaching periods per week. Students are required to choose one.
subject from each of the six subject groups. It is formally possible to take two Languages A instead of (or in addition to) a Language A and a Language B (subject to timetabling constraints).
In addition to their six subjects, all IB Diploma Programme students will follow lessons in Theory of Knowledge. Furthermore, they must write an Extended Essay and fulfill the requirements of the Creativity, Action and Service (CAS) programme.
In exceptional cases students may be allowed to choose a seventh subject as an Extra Certificate subject. This may be taken at Higher or Standard Level. The DP Leader for Learning, with the advice of the subject teachers, decides whether or not a student will be allowed to take a seventh subject in the DP.