Career-related Programme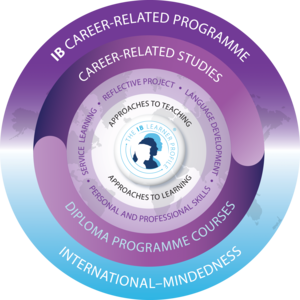 The Career-related Programme (CP) is designed for students interested in pursuing a career-related (vocational) education in the final two years of Secondary School. The CP is a programme for students aged 16 to 19, which enables students to combine academic subjects with their personal and professional interests and skills.
Students who successfully complete the career-related programme have an excellent foundation to support their further studies and are prepared for success in the workforce. In the Netherlands the CP certificate provides access to Universities of Applied Science (professional universities). For information about access to universities in other countries, see the IB website.
Curriculum
The CP is a two-year curriculum which provides a balance of academic and career-related education. The CP provides a comprehensive educational framework that combines highly regarded and internationally recognized DP courses with a unique CP core and an approved career-related study.
CP core
The CP core aims to develop students' personal qualities and professional and intellectual habits and skills required for lifelong learning. It provides context to the career-related study and the DP courses. The CP core consists of four components:
Personal and professional skills course: The Personal and Professional Skills course focuses on the development of skills students need to function successfully in higher education, the workplace and society. The course aims, among others, to develop responsibility, practical problem-solving, resilience and ethical understanding.
Service learning: In Service Learning, students develop and apply personal and social skills in real-life situations. They experience the practical application of knowledge and skills toward meeting an identified community need.
Language development: Language Development ensures access and exposure to a second language, which increases students' understanding of the wider world. In language development students develop their oral, visual and written linguistic and communicative abilities.
Reflective project: Students identify, analyse, discuss and evaluate an ethical dilemma associated with an issue from their career-related studies. It concerns an in-depth body of work produced over an extended period of time.
Career-related study - BTEC Business Programme
The career-related study supports the programme's academic strength and provides practical, real-world approaches to learning. It presents students with a more vocational curriculum, though it still remains theoretical. The career-related study prepares students for higher education, an internship or a position in a designated field of interest.
At the AICS, the career-related study focuses on Business. We offer the BTEC Business programme (Level 3 Diploma). The BTEC programme is designed to provide specialist, work-related qualifications in a range of vocational sectors, giving learners the knowledge, understanding and skills that they need to prepare for employment.
On successful completion of a BTEC Level 3 qualification, a learner can progress to or within employment and/or continue their study in the same, or related vocational area.
In this course, students complete 5 mandatory units. In addition, students complete 4 optional units.
The table below shows the mandatory units and the optional units at the AICS.
| Mandatory units | Optional units at AICS |
| --- | --- |
| Exploring Business | Managing an Event |
| Research and Plan a Marketing Campaign | Team Building in Business |
| Business Finance | Pitching for a New Business |
| Principles of Management | Work Experience in Business |
| Business Decision Making | |
DP courses - English & Mathematics
Students complete three academic courses from the Diploma Programme. The DP courses provide and enhance the theoretical underpinnings and academic rigour of the CP.
At the AICS, all CP students will study a Mathematics and an English subject from our DP subject selection:
| Subject group | Subjects |
| --- | --- |
| Mathematics at Standard Level | Applications and Interpretations |
| | Analysis and Approaches |
| English at Standard Level or High Level | English Literature |
| | English Language and Literature |
| | English B (for non-native speakers of English) |
In addition to these two subjects, students will choose a third subject at the Standard Level from our current DP subject offering. Students can choose between Geography and Environmental Systems and Societies.
CP certificate

After succesfully completing the career-related programme, students are awarded with a certificate. The CP certificate, in combination with the BTEC Diploma, is a valuable qualification which provides students with access to higher education and universities.
In the Netherlands the CP certificate provides access to Universities of Applied Sciences (professional universities). For information about access to universities in other countries see the IB website.