Student Support
The AICS aims to be an inclusive school. We believe deeply in our mission to serve our diverse and globally mobile community to the best of our ability, and accept children with a diverse range of learning backgrounds.
Our mission to provide high-quality, accessible, community-based international learning for students of all nationalities living in the Netherlands is one we take very seriously. We believe that an inclusive educational programme has a value that enriches the whole community. We serve students with a range of disabilities and learning support needs and focus on ensuring that we meet their needs. This student support begins within the classroom itself, led by teachers and mentors.
To give every student the appropriate support, we work in addition with the Student Support Team and the Student Support Pyramid.
The Student Support Team
Our Student Support Team is a whole school team, which means that all the team members will work with students of all ages in the school. This team, with the exception of the Careers Counsellor, meets each week to discuss and evaluate students of academic, social/emotional or behavioural concern within the school.
In addition to our AICS Student Support Team, we have a number of external specialists who work with us on a permanent basis.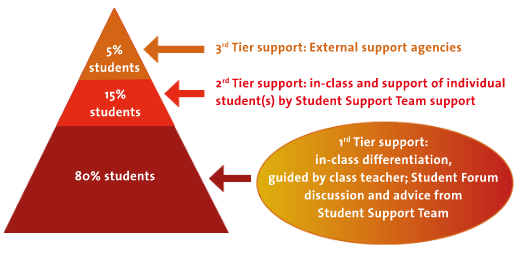 The Student Support Pyramid consists out of three tiers:
The first tier: Within the first tier of support the Primary School Teacher, Primary Class Assistants, and the Secondary School mentors and teachers are always the first point of reference. All teachers are responsible for the well-being of the specific students under their care. Within this tier, teachers provide in-class differentiation and accommodations in order to best meet the needs of their students. Discussion through Student Forum and advice from our Student Support Team are also used in this tier.
Student Forum: Throughout the school year the teachers engage in a discussion called Student Forum. At this meeting teachers share observations, questions and strategies regarding the academic and social-emotional development of their class as a community. In addition to discussion about the well-being of a class as a whole, observations, questions and strategies also shared in relation to the academic and social-emotional development of individual students. We believe deeply that all effective learning begins with a happy, confident child.
The second tier: Within the second tier of support, students with more specialised needs are supported. The support they receive is in a combination of co-taught and small group support. We believe it is important that students, parents and teachers work closely together to design the form that the support will take.
The third tier: Our third tier of support is a programme through which students with more specialised needs receive support from care organizations external to the school. A Learning Diversity Specialist from within the school is responsible for the monitoring, communication and coordination of their care.