Curriculum
The Curriculum
Core values of the International Primary Curriculum (IPC)
The principle of the IPC is to focus on a holistic combination of academic, personal and international learning for children worldwide, combined with innovative and exciting ways to learn.
At the AICS the IPC unit is just one of many starting points for curriculum planning. We take the programme a step further by infusing aspects of other international approaches such as our concept-based curriculum. This is where students' own questions and curiosity are used to drive the development of conceptual understanding alongside the skills development in the IPC. Currently, we are phasing in the Primary Years Programme (PYP) from the International Baccalaureate Organisation which will enable us to align our programme of inquiry with the Middle Years Programme (MYP) and IB Diploma in the Secondary School.
Mathematics and Languages are critical elements of learning to learn in the Primary years, and so we also deliver these as individual subjects within the daily timetable.
Inquiry-based learning - Our programme is based on the principles of Inquiry-Based Learning. This programme follows an exciting thematic approach that integrates the key concepts identified in Mathematics, Languages, Science, and Art into meaningful contexts for delivery. We fuse Inquiry-Based Learning into exciting contextualised learning units, using the International Primary Curriculum as a starting framework where appropriate. Teachers are encouraged to create their own thematic units around the key concepts. We will focus on creating a developmentally appropriate learning environment in which purposeful play-based learning and social relationships can thrive.
Approaches to learning
In addition to a robust academic curriculum that encourages creative and reflective thinking, we place a strong emphasis on children's emotional and social development at the AICS. Our Approaches to Learning programme encourages students to deepen their awareness of ten specific learning behaviours, reflecting on them as part of their daily and weekly classroom routines, and celebrating and acknowledging them in assemblies.
These ten skills and dispositions (Thoughtfulness, Respect, Morality, Adaptability, Resilience, Cooperation, Communication, Reflective Thinking, Inquiry, and Knowledge) are transitioning into the values of the IBO Learner Profile, ensuring that by the time our children progress to MYP, CP and DP, they have developed key attributes that will contribute to a more successful and meaningful educational career.
Specialist lessons
Specialist classes consist of English Language Acquisition, Dutch Language Acquisition, Dutch Language and Literature, Physical & Health Education (PHE), and the Performing Arts. These classes are given by specialist teachers and allow for small group learning opportunities and/or specially equipped learning environments. These are timetabled throughout the week and located in the appropriate specialist learning area.
English Language Acquisition (ELA): Students with little or no English are called ELA Starters. We invite ELA Starters to join small pull-out sessions with a specialist English teacher; in these lessons, the focus is on Basic Inter-Communication Skills* involving speaking, listening and phonics. This course lasts for one academic year and takes place during the three hours of Dutch Language lessons.
Dutch: There are two routes through the Dutch Language Programme, depending on the needs and requirements of the international child:
Dutch Language Acquisition (DLA) - This is a Dutch Language course which also focuses on culture. The focus is on Speaking and Listening in Dutch. The purpose of the course is to allow our children to integrate locally into their community whilst connecting globally with their neighbours. This is achieved through knowing how to communicate confidently in the Dutch language and experiential knowledge of the traditions of the Netherlands.
Dutch Language and Literature (DLL): The focus is on Reading, Writing, Speaking and Listening in Dutch. This programme is designed for children who have Dutch passports or a Dutch family background and the purpose is to gain fluency in their best or home language.
Physical & Health Education classes are provided for all age groups and are taught by a specialist P.E. teacher. Children learn about healthy lifestyles and performing a range of movement activities. They are taught about developing physical competence and confidence, developing creativity and imagination, teamwork and communication. The knowledge, skills and understanding which children gain through their study of physical education can be regarded in terms of skills, planning, performance, evaluation, fitness and health. Students will have the opportunity to participate in gymnastics, ball games, athletics and dance.
The Magic Roundabout is a multifaceted brain-based programme that stimulates students' holistic development in arts, science and physical agility. Activities are organised on Wednesdays and may include Dance and Coordination, Ceramics, Gymnastics, Visual Arts, World Music, Cookery, Yoga, Science, Dutch Culture/Traditions and World Culture.
The Amsterdam City Council Special Programmes include activities such as swimming, ice skating, art/music/museum trips and nature programmes.
See our School Guide for more information about the curriculum and the specialist lessons.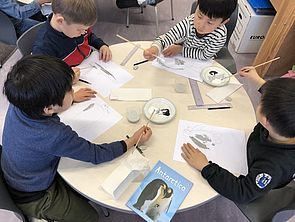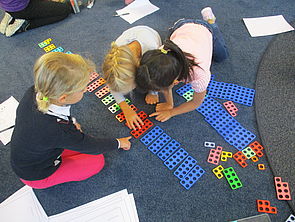 Mindfulness at the AICS
A growing number of classes in the Primary School carry out mindfulness activities as part of their daily or weekly routine. For many children, this is as simple as sitting in silence and observing their breath for a few minutes. It may also include reflections on students' emotional well-being, gentle physical stretches, and direct and mindful focus on movements and actions. We believe in equipping our students with tools that will enable them to calm themselves in stressful situations. It is our hope that through learning some very simple mindfulness activities at a young age, our children will be able to navigate the challenges of life with calmness and compassion.
Educational Play
Engagement in various forms of purposeful and imaginative play is an essential aspect within Inquiry-based learning. It is through purposeful play that students are given the opportunity to construct meaning individually and collectively, deepen sensory experiences, generate inner dialogue, self-reflect and self-regulate. Well-designed learning activities that involve Play are a cornerstone of creativity and imagination—characteristics we seek to develop in students as citizens of the world, today and tomorrow.