South East Campus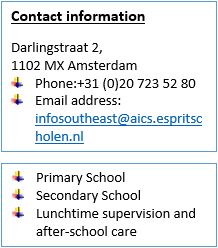 The South East Campus is situated in a brand new state-of-the-art building, filled with natural light. The campus is situated in a green and spacious area with good infrastructure in the South East of Amsterdam. It provides an eco-friendly environment, nurturing and yet challenging our children both on an academic and social level.
At the South East Campus, we currently have around 300 students from 23 different nationalities in both Primary and Secondary School. We expect to grow up to 500 students, after which we will move to the so-called 'Sandcastle', a characteristic building, situated at the Bijlmerplein.
AICS South East now offers primary education from year 1 to 7 and the Middle Years Programme (MYP) year 1 to 4. Next school year they will also offer MYP year 5.
In the coming years AICS South East will continue to offer primary and secondary education up to and including MYP5, with two classes in each year level. That is the maximum capacity of the building. Students who graduate from MYP 5 will transfer to the Main Campus to follow either the Careers-Related Programme (CP) or the Diploma Programme (DP).
When AICS South East moves to the Sandcastle (planning September 2023) CP and DP will also be offered at this campus.
Facilities
All our campuses have access to gym facilities, a library and arts performance/exhibition facilities.
In addition, we have a two science labs, a dance room, a music and drama room, a little gym and two assembly halls. These facilities support our curriculum and provide opportunities for extra-curricular activities.
In addition, we also have a World Canteen. This facility is open every day for secondary students, AICS parents and staff. We also organize our monthly coffee mornings here.
The AICS currently shares the building and facilities with Woest Zuid. Woest Zuid provides out-of-school care and lunchtime supervision for children between 0 and 12 years.
Accessibility
This campus is highly accessible by car, train, bus and metro. The South East Campus is a few minutes' walk from Metrostation Strandvliet, and a 10 minutes' walk from Station Amsterdam Bijlmer.
Shuttle service
Students can also make use of our shuttle service to facilitate the commute from pick up and drop off points at Amsterdam Zuid, Amsterdam Centrum, Amsterdam Oost and Amstelveen to the South East Campus. This service is run by Amsterdone (taxi company). For more information, please email info@amsterdone.com.