South East Campus
THERE IS NO WAITING LIST AT THIS CAMPUS. As we are moving to a brand new school building, we have plenty of room for students in all grade levels Groups 1-7 Primary School and MYP 1-4 Secondary School. Please apply now for August 2019. Our Admissions Team will be happy to help you.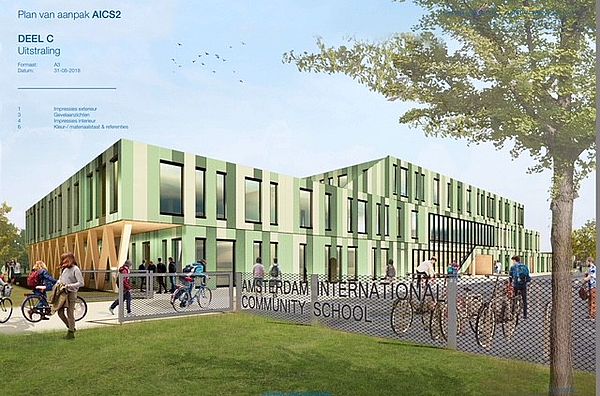 Address: Darlingstraat 2 1102 MX Amsterdam South East
Phone: +31 (0)20 723 52 80
At AICS South East we currently have around 150 students from 23 different nationalities in both Primary and Secondary, with many new students joining us in the coming months. We still have spaces available for new students in the following Primary and Secondary levels: Groups 1-7 and MYP 1, 2, 3 and 4. (MYP 5 and DP to be rolled out in the following years)
Our new state-of-the-art building, filled with natural light, is situated in a green and spacious area with good infrastructure in the South East of Amsterdam. It provides an eco-friendly environment, nurturing and yet challenging our children both on an academic and social level. Together with AICS Main and AICS Satellite, we are one school at three campuses.
Map of Darlingstraat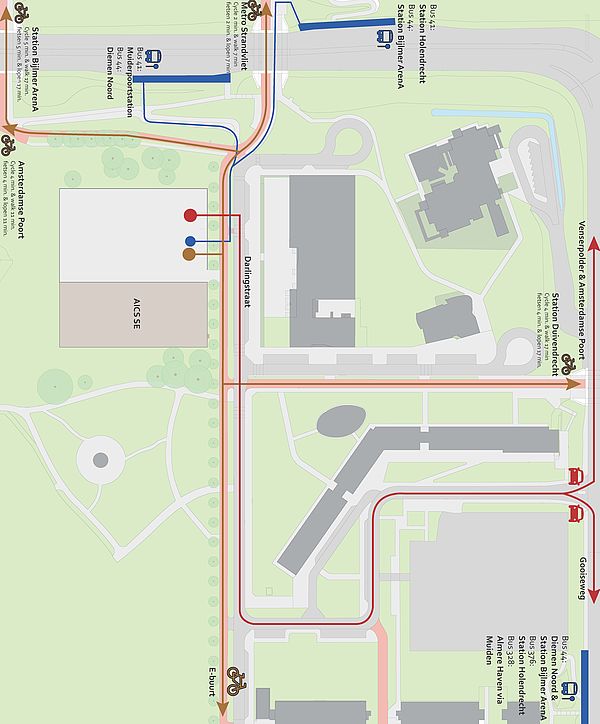 Our after-school care and lunch time supervision service is run by Woest Zuid. Woest Zuid is an after-school club for Primary school children that cares about the fun of playing outdoors, discovery, movement and playing freely. They stimulate children to develop their own ideas, set their own goals, negotiate rules and overcome challenges. With their own indoor club and gym and a large outdoor area, they provide a healthy environment for physical activity, imagination and adventure. For more information visit https://www.woestzuid.nl or call 020-2611818.
In the Bijlmerplein area, there are also daycare options.
Using this website and the postal code 1102 MX Darlingstraat 2
You can see all the daycare and preschool options in the neighbourhood
https://schoolwijzer.amsterdam.nl/en/
Preschools are abundant.
Nearest daycare is then http://www.hetamsterdamsepoortje.nl/
Parent testimonial of two students at our AICS South East Location – Group 5 & 7
"My children enjoy going to school every day, they feel safe and are very happy. At pick up time, you can feel the positive energy on the playground.
The teaching staff are very good at nurturing and developing the children's academic skills as well as social interaction."
Walkthrough Video at Darlingstraat