Satellite Campus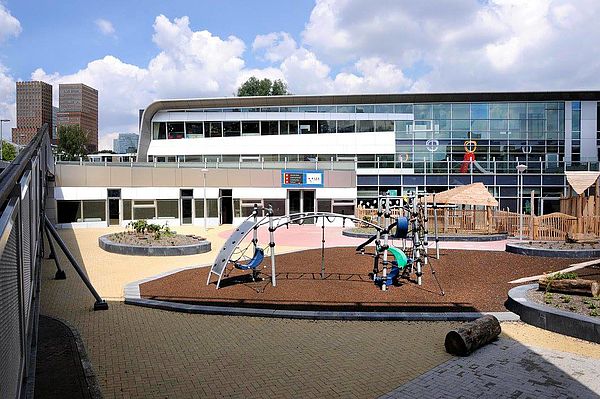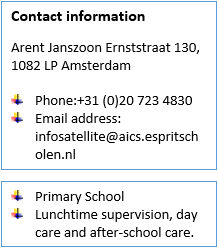 The AICS Satellite is a small, intimate school with a big heart. This campus accommodates the Primary School. The Satellite Campus offers places for up to 220 students.
The Satellite Campus is housed in a lovely community building which is perfectly in keeping with our school ethos of being a community school.
This campus does not have a Secondary School department. All students feed in automatically to our South East campus, unless otherwise specified and special conditions apply.
Facilities
All our campuses have access to gym facilities, a library and arts performance/exhibition facilities.
The building we are located in is also used for several other purposes, such as a local Dutch school, a pre-school, some local municipal offices and a café/restaurant. Partou is also located in the building. Partou offers lunchtime supervision, day care and after-school care.
The café, dance studio, kitchens and theatre housed in the building are available to the school to use whenever we host any special events, performances and school concerts. The café is a shared community space open to the schools, retirement homes and families living in the area.
Accessibility
The school is easily accessible by public transport. There are bus stops just a few minutes' walk away. Tram 5 and metro 51 are nearby as well. The nearest stop is A.J. Ernststraat.