Main Campus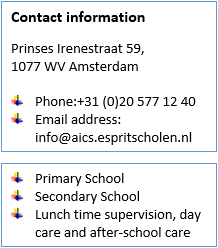 The AICS Main Campus is situated in a four-storey building in the quiet residential neighbourhood of Prinses Irenestraat in Amsterdam South. The building offers places for up to 1200 students aged 4 to 19.
This campus accommodates the Primary School (groups 1-7) and Secondary School (MYP 1-5 and the IB Diploma Programme).
The Main Campus currently has approximately 1100 students, of which 600 attend the Primary School and 500 the Secondary School. It is the largest campus.
The campus is currently situated in an office building. The construction of the new, state-of-the-art, school building in A.J. Ernststraat (A. J. Ernststraat 1179, 1081HL Amsterdam) has begun. We expect to move into the new school building in September 2022 at the latest.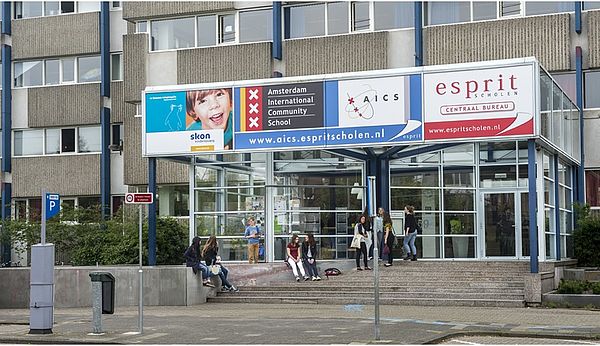 Facilities
The AICS currently shares the building and facilities with Partou. Partou provides day care, out-of-school care and lunchtime supervision for children between 0 and 12 years.
All our campuses have access to gym facilities, a library and arts performance/exhibition facilities. In addition, the Main Campus has the following facilities:
Inquiry Lab: A lab where students conduct investigations in Science, Technology and Arts.
World Café: This facility is open every morning from 08.15 to 09.45 for AICS parents to meet over a coffee or hot chocolate. The Melting Pot (parents association) also have its monthly coffee mornings here.
Accessibility
The Main Campus is a few minutes walk from Station Amsterdam Zuid/WTC. This campus is highly accessible by car, train, bus, tram and metro.