Some Frequently Asked Questions...
What happens if I submit an application without all the requested documentation?
We will email you to say that we will not go further with your application until you have submitted all the documentation. We will not send you a further reminder. If we do not receive the documentation within 10 days we will delete your application and you will need to resubmit the whole application again. So please only submit your application when it is completely ready.
Do you have a waiting list?
Due to the opening of our third location, AICS South East, we now have spaces for new students. Please contact our admissions department for more details.
How big are the Groups?
Each Group has a maximum capacity of 22 students.
Groups 0-1 have a Full time Teaching Assistant.
Groups 2-3 has a Part time Teaching Assistant.
Do you have a Special Education facility?
We are able to provide extra assistance for a limited number of students, once we have reached capacity within the department with the best interest of your child in mind, we may advise that you remain on the waiting list until a time when we are able to provide the full support that your child requires.
Do you enrol children who do not speak English?
Yes we do!
Please see page 16 of our digital school guide for more information and note that the service we provide (ELA) is also known as EAL or ESL in other schools
What is Group 0?
Group 0 runs the same as Group 1. It has been set up for children who turn 4 too late to join Group 1 and who are too old to attend day care so they may attend the school. It is NOT voorschool/Preschool.
Do you have any after school clubs?
At AICS we encourage students to participate in local community sports and activities as much as possible. For that reason we limit our own extracurricular offerings to those activities not readily available within the local community.
The AICS offers a variety of school activities that are organised, as needed or wanted, from term to term. A listing of current offerings can be found in the quarterly newsletter and/or the AICS Weekly. These activities may incur a small fee. Anyone who is interested in running an activity for primary students should contact the school office.
Can my child join at any time in the School year?
Provided that a space is available it is possible to join at any time within the first 3 Terms.
What happens if I apply now and do not get a space for this year?
Your application will automatically roll over to the next school year until you a space becomes available or you advise us that you are no longer interested.
Do you provide transport to the Schools?
All three locations are situated close to public transport facilities.
What are the Primary School hours?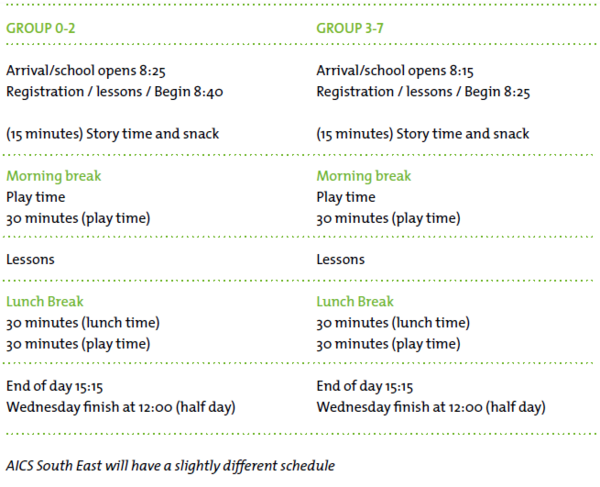 The Secondary Timetable varies everyday for each individual school year.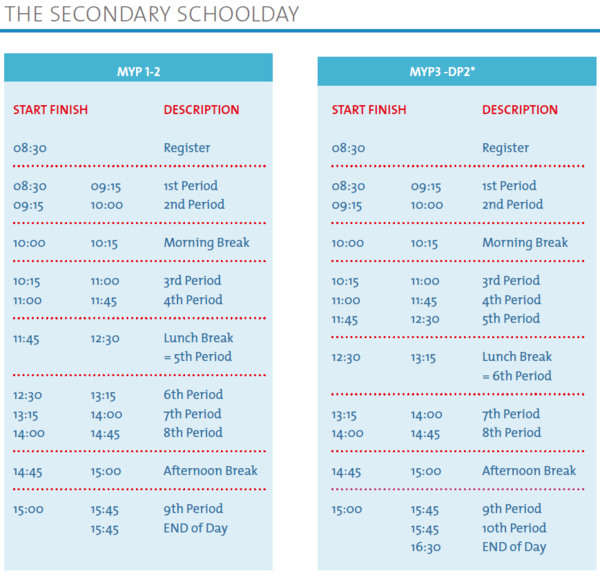 What languages are available?
English/ Dutch/ French/ Spanish/ German (German is only available for certain MYP levels)
Do you have any after School care?
There is an after school care facility within the building which is run by a separate company.
More information can be found on their website:
Lunchtime supervision
Lunchtime supervision is provided by Partou on site.
FAQ About the Satellite School
What happens after group 5?
The groups will just roll up. So group 5 students will roll up to group 6 at the same location. This will continue up to and including group 7.
What is the capacity of the new location?
We have space for two classes of each group – so that is from groups 1 to 7 plus one group 0 each year.
What happens after my child has completed the Primary School section?
The intention is that the Satellite Primary will remain in the coming years. The Satellite Primary has now classes 0 till 5. In the coming two years, it will grow to classes per year, 1 till 7. Primary students from the Satellite have a guarantee that they can continue secondary education in South East.
Is there after-school care available?
Yes, we work with Partou. We have been advised that they do have space, so if we have offered you a place, please contact Partou straight away to reserve your after-school care.
Will there be after-school clubs?
Most definitely. A lot of the current club leaders at the AICS are more than happy to run their clubs at the new location as well.
What facilities does the new location offer?
Apart from nice, bright classrooms – the building has a little gym, a big full sized gym with equipment and a climbing wall and a theatre. The first floor has a secure balcony with a sand pit and playground equipment suitable for younger children. The front of the building has a big playground area.
What else is in this building?
Partou child care, a peuterspeelzaal, a Dutch Primary School, some gemeente offices and a café/restaurant. It is a lovely community building which fits in with our school ethos of being a community school.
What is the parking like?
You cannot park right outside the school. However, there are certain streets where you can park for free for 90 minutes if you display the special blue time card in your car window. There is also a car park under the shopping center where you can park free for the first 90 minutes. It is only a couple of minutes' walk from the car park.
Is there public transport?
The 199 bus stops right outside the school. There are other buses that are just a few minutes' walk away. There is also the tram 5 and metro 51, nearest stop A J Ernstraat.
Can I swap locations?
This is not possible. You enroll and stay at one location for your time here at the AICS.
So is it three separate AICS schools?
No. Think of it as one school with three locations. The Main, South East and Satellite locations will have the same Director, Headmaster and Leaders for Learning. There will be a mixture of existing staff and a few new staff members.